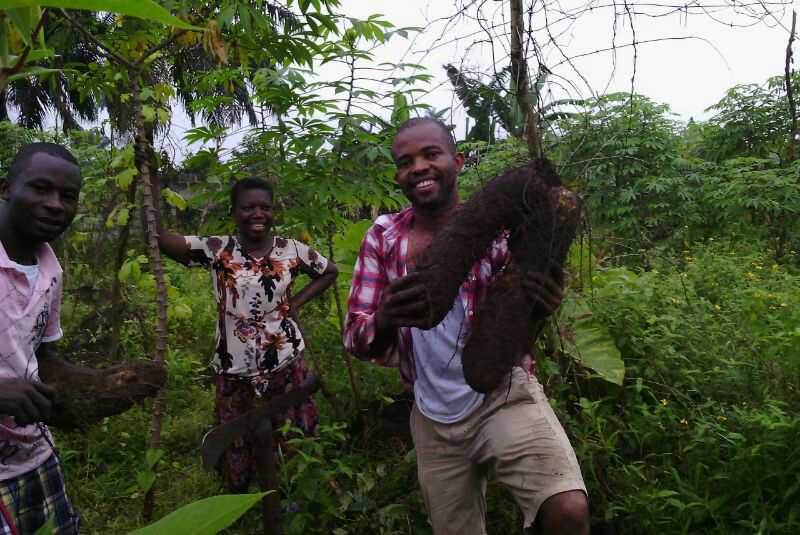 Jamike's Farm
This interview features Jamike Okoroji, student at the University of Lagos, Nigeria. He maintains a farm in his home-town in Enugu state. He aspires to become a professor and to be called a Polyglot some day.
You look content on your farm. What motivates the endeavor?
I don't like being idle. Agriculture was my first option when I couldn't get a desk job after I school (I grew up where farming was priority), but things are not such that I can make a good living doing this. If given the opportunity, I would set up a modernized poultry farm, add a cassava mill, and living quarters for my staff.
What do you believe is the biggest challenge in your community?
Unemployment causes problems. And our youth do not have the commitment or mental power to stand out in this environment. Young people should be reminded to focus on the right priorities — like money isn't everything. We need socialization and psychological development as much as we need skills training.
What changes do you suggest?
Education should be priority. I would invest heavily in the public education system, and in agriculture so that more young entrepreneurs (like myself) can contribute to the economy.
Related
Tags In
VeryLoudYouth
We stand with the most vulnerable girls and boys. We stand for resourcefulness, resilience, and hard work. We are advocates for youth and advocates for the voiceless.
Got something to say?
Calling Young Writers and Creatives
Discuss culture, music, opinion. Report success stories, review literature, challenge norms. Increase recognition of the rights, fears, and aspiration of youth.